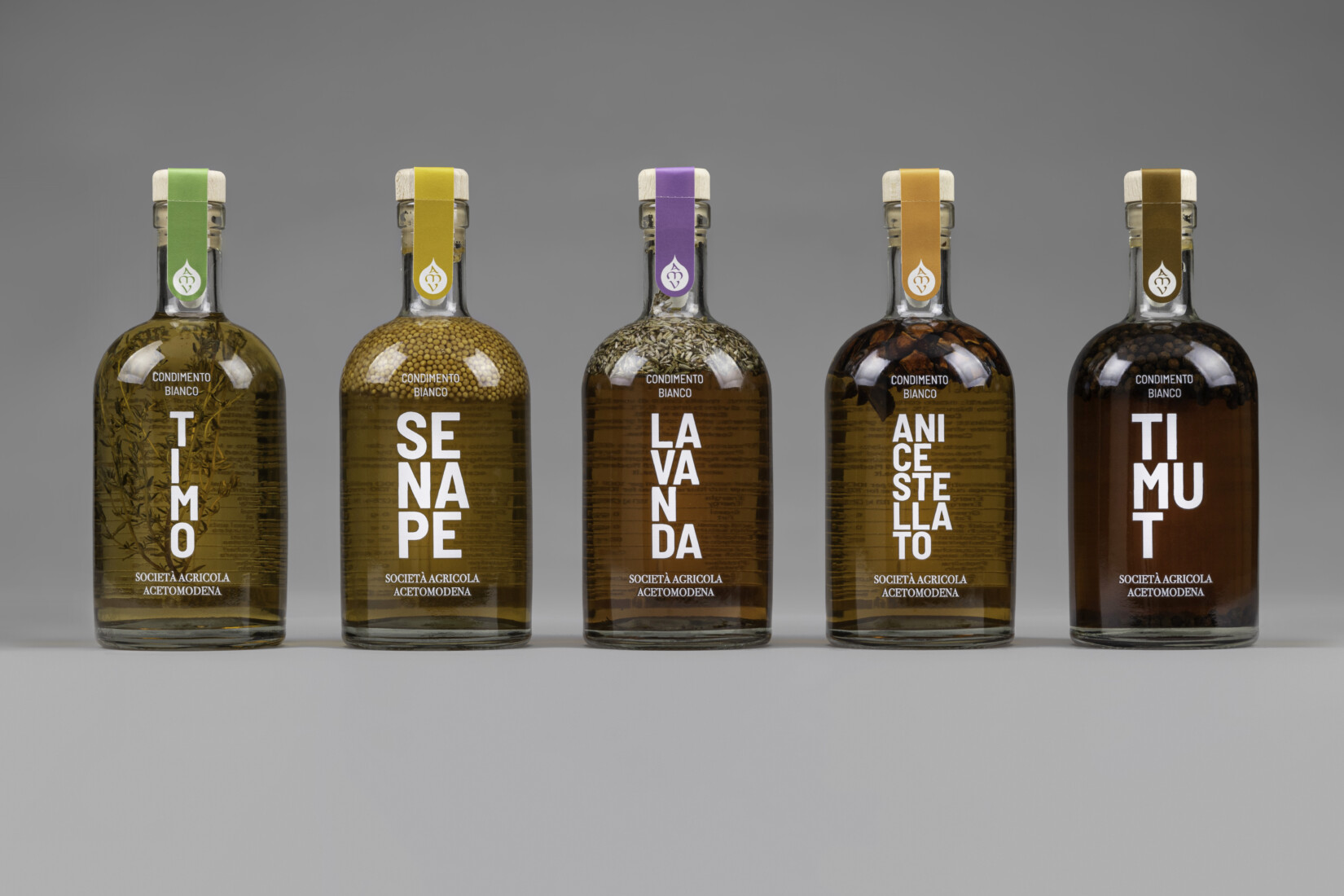 Società Agricola Acetomodena
Società Agricola Acetomodena chooses O-I : EXPRESSIONS for its innovative and sustainable packaging solutions for a new line of balsamic vinegar.

Brand Revolution Lab 2020 brought together Italy's Società Agricola Acetomodena, Lateral Creative Hub design agency in Milan, Italy, and O-I : EXPRESSIONS to collaborate on conceptual packaging design based on Acetomodena's new White Condiments line.
Società Agricola Acetomodena, a balsamic vinegar producer in the Modena region for three decades, knew their brand stood for high-quality, elegance and sustainability. They wanted packaging that would radiate both too.

While participating in Brand Revolution Lab 2020, Società Agricola Acetomodena was drawn by a presentation on O-I : EXPRESSIONS, O-I's late-stage customization solution enabled by digital printing. They were enticed by O-I : EXPRESSIONS and its ability to print multiple designs in one print run without the need to meet the minimum order quantities.
They were also drawn to the environmentally-friendly benefits of glass packaging. Not only is glass 100% recyclable, but the ability to use organic inks to print the label directly on the package meant less waste than a traditional label.
In collaboration with O-I's graphical design team, the bottles for five different products in the White Condiments line were created. Using a reference from O-I's standard bottle range, the bottles play with glass's transparent nature, adding a touch of magic that only glass can provide by visually enticing consumers to see the beauty of the products inside.
"O-I : EXPRESSIONS allowed us to creatively translate the essence of the product, the combination of ingredients that mix enhancing each other," says Francesco Fallisi from Lateral Creative Hub.
For more than 100 years, O-I has transformed glass packaging. The simple yet elegant collaboration between O-I : EXPRESSIONS, Società Agricola Acetomodena and Lateral Creative Hub highlights how O-I specializes in telling brand stories through glass, but also helps brands reach their sustainability goals through innovation.
Sustainability

Usage of organic UV inks, no heavy metals
No impact on recyclability and safe for the environment

Aesthetic

Precise printing of text & fine graphical details

360° brand messaging

High-definition printing
Precise printing of small fonts
Integration of logos & key brand message